With great pleasure I inspire leaders about their role in change. They also learn a common language that helps them to quickly find answers in their own situation.
Subjects of my presentations are:
How to get commitment?
Stimulating intrinsic motivation by dealing with reactions to change
Click here for more information
The function of friction
Find the friction that brings shine, without making scratches
Click here for more information
My presentations vary from key note presentations (45-90 minutes) to masterclasses (half a day). Offline and online. Allways interactive, free of jargon and full of recognisable examples.
Compilation of my lecture 'How to get commitment?' for Canon Production Printing
Recommendations from clients
"We had a successful meeting. After your session, numerous speakers referenced your session, along with various people making comments and asking questions. [Our global leader] concluded with a reminder of the change strategies and how they can be employed moving forward. I believe the participants did become more aware of their role as change agent. Your handout was a very tangible way for them to feel like they can take action going forward. All in all, I believe it was a success in helping them better assume their role as change leader".
"Managing Director – Global Meeting 'Big Four' Accounting firm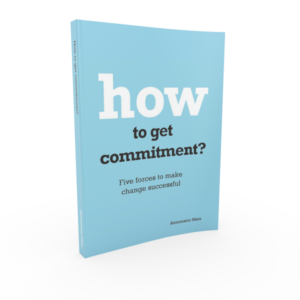 "Her combination of crystal-clear conceptual thinking with no-nonsense pragmatism and honesty is a relief. The combination of all that, in a warm person with a great sense of humour, makes it a pleasure to work with her".
Prof. Dr. Job Kiviet, professor of Quality in Healthcare, Leiden Academic Hospital

"Annemarie is very driven, pleasant to have contact with and is good at reflecting on herself. She gave us an educational and uniting morning as a management team. I have rarely met someone without psychotherapeutic training who is that good at making contact. She applies her knowledge well to the questions of significance in your organisation. In short, with Annemarie you bring in a gem".
Rian Busstra, Manager Treatment Matters, GGZ Drenthe.

"Annemarie is a speaker who brings complex matter to life with humour and practical examples. Her six spotlights give leaders guidance to determine what to do in every situation. I gladly recommend her!"
Joris van de Lindeloof, Director UNC plus Delta

"For many years now Annemarie Mars has inspired directors in our leadership program. I imagine that Henry Minzberg himself nods satisfied at the words she speaks. Pragmatism with depth. That is Annemarie Mars for me. She is grounded and can explain why that is important. The theoretical foundation is in order and she keeps up well. This makes her a role model for the people we are educating."
Aagje Voordouw, Coordinator Management Development Program for Directors

Interested?

For information or bookings please contact my personal assistent Annemieke Kersting.

Email: annemieke.kersting@forachange.nl
Phone: +31 6 – 4222 40 33

Credits photo at the top: Ewouter Blokland